July 2016 Issue

315-986-2020

• Proper Watering
• Maintain or Add Hardscape
• Prune Your Evergreens
• Plant of the Month
---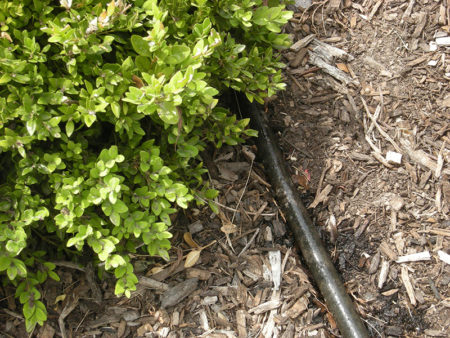 If this summer's hot, dry conditions have you working up a sweat, we have some good news. No, the temperatures aren't dropping and the rain's not returning. But we do have some suggestions for keeping your landscape plants watered without wearing you out.For best results, plants need at least an inch of water every week, and they like it all at once. However, standing out in your garden sprinkling isn't good for you or the plants. It will tire you out and expose you to sun stroke and sunburn. Most people run out of patience before the plants receive the amount of water they need, and spraying water over the tops of plants results in much of the water evaporating before it reaches them.

The best plan is to apply the water directly into the soil at the plants' root zone. If you only have a few plants, you can place a hose without the nozzle at the base of a plant and open the faucet until the water just trickles out. To expand this method to numerous plants, you can use soaker hoses and thread them through the root zones of the plants requiring water. Soaker hoses are porous rubber made from recycled automobile tires so you only open the faucet about a quarter turn and the water oozes out. This type of irrigation takes quite a while to apply, but you don't have to sit there and hold the hose, or even watch it. Just check it every once in awhile.

Much of the soil around here contains quite a bit of clay, and it takes longer for water to soak into the ground, so you may have to apply the inch of water in two applications. Also, check to be sure the water is soaking into the soil rather than flowing away from the plants. A good 2-3 inch layer of mulch really helps regulate water absorption and reduce runoff.
---
July Is A Good Time To Maintain Or Add Hardscape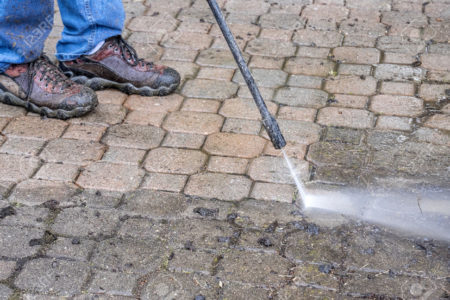 July's the start of the dog days of summer, and they appear to have started early this year. Lawns are looking like straw and we're having to help Mother Nature keep our landscape plants sufficiently watered. If you follow the suggestions in The Proper Way To Water Plants article, you should have less plant care activities keeping you busy, and more time to turn your attention to your hardscape.

If you're wondering what hardscape projects should be performed, we have a few suggestions. It's a good idea to pressure wash and re-stain your deck periodically to ensure it is properly sealed from the elements. This will prevent water from absorbing into the wood and lengthen the life of your deck and the cold water will help keep you cool in the summer heat. Does your patio furniture need some TLC? Cleaning and repairing deck furniture could be an easy project to knock off over the weekend. It also makes a good family project. Assign each person a certain task based on skill level and let them go at it after you've shown them what they need to do.

How does the space between the patio pavers look? Should they be "topped off" with polymeric sand? If weeds or grass is growing between them, it should be removed right down to the roots. You can try to carefully pull them out by hand but this method is very tedious. Some other methods include using a pressure washer or Roundup® into each space containing weeds. In a few days they will die and then you can cut them out with a triangular hoe or one of the special tools garden center sell for the purpose.

The weed seeds probably blew in from your yard or a neighbor's. Once you get rid of the weeds, take steps to prevent their regrowth. This means going out with a spray bottle of vinegar at the first sign of weeds and spraying them. If your yard is the culprit, a lawn care program that keeps your yard as weed-free as possible will reduce the chance of their returning to the patio. You can either apply a weed and feed to your lawn yourself or hire a professional to apply the treatments.

An initial step when re-grouting is to check the stability of each paver. If any are wiggling, pull them out to see if the sand or stone dust base has been compromised by water and ants. You'll probably have to add more base material and level it before repositioning the paver. This would also be a good time to see how the water drains from your patio and make any corrections that might be needed. Too much standing water will encourage any weed seeds that fall after you re-grout to germinate.

Finally, re-grout with polymeric sand. Use a good, stout shop broom to brush it into all the seams all the way up to the surface.

If you're looking to change things up. Moving your indoors out is all the rage these days. Many homeowners are upgrading their decks and patios to include pergolas and roofs for shade. When you don't want to heat up your indoor kitchen many are building outdoor kitchens. Today's outdoor kitchens can include deluxe grills, brick pizza ovens, counter tops, cabinets and refrigerators. Dining and living areas can run the gamut from basic to spectacular. Many of the hardscape upgrade projects are a bit more complicated. You should consider working with our design and installation team to ensure better results.

Whether your current patio needs repair and reconditioning or you want to expand your outdoor living space, we have the skilled people to do the whole job or any part that you don't want to do yourself. Our expertise encompasses most building materials. We work with landscape pavers, all types of stone and concrete. Let us know how we can help you have the outdoor living space you've always wanted.
---
Summer Is For Pruning Evergreens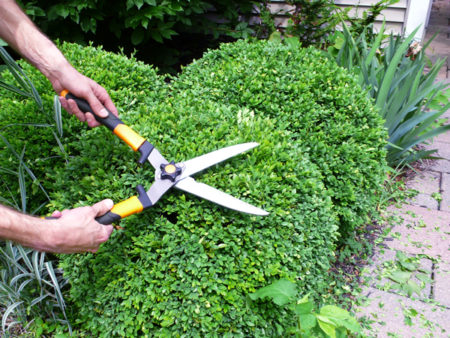 Most shrubs are pruned in spring, or after flowering shrubs have finished their annual show of color. However, one group of plants – evergreens – shouldn't be pruned until summer.

The recommended time to prune is mid-summer. There is some flexibility but shouldn't extend beyond mid-August. If you're looking to keep the shrubs contained in a certain area, the best time to prune is when the new growth is finished and is still light green but before it has hardened (turned dark green). If you prune before the new growth is complete, you'll have to do it again when it is fully extended. Although you can prune after the new growth has hardens, it is tougher to make cuts so using manual or electric hedge clippers is not recommended. This could cause injury to the shrubs, threatening their health.

The most popular evergreens that we are talking about are yews (Taxus), junipers and boxwoods. Flowering evergreens like rhododendrons and azaleas can be pruned right after they flower in the spring.

Yews and boxwoods can be sheared using hand or electric hedge clippers. These shrubs are usually shaped more formally than junipers. Be careful, though, not to remove foliage right down to bare wood or you'll have a bare spot there forever. New foliage won't grow on that wood.

Junipers should be pruned like a tree. Remove whole branches right back to a fork using pruning shears or loppers. Don't shear them. They should grow in a natural form, and don't remove more than 25 percent of the foliage or you cause stress, especially in a hot, dry summer like this.

If this seems like a daunting task that you'd like to skip, give us a call. We have trained technicians who are eager to trim your shrubs for you.
---
Feature Plant Of The Month –
Rudy Haag Dwarf Burning Bush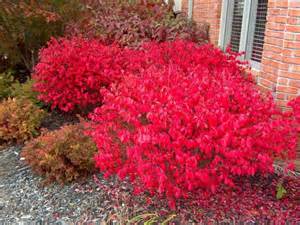 Like all burning bushes, the Rudy Haag burning bush (Euonymus alatus 'Rudy Haag') exhibits spectacular red fall foliage. At a height and spread of 3 to 5 feet, this compact, slow growing shrub is considered a dwarf. It's very versatile, too. It tolerates full shade and a wide range of soil conditions. The only thing it really doesn't like is wet feet. This burning bush can be planted as a single specimen or in groups, making it ideal for use as a hedge, screen, foundation or border plant. Best of all, it doesn't have any disease or insect problems.

Countrycare Landscape Management
448 Sheldon Road, Palmyra, NY 14522 | Phone: 315-986-2020 | cclm@rochester.rr.com